Steve Jobs
Truely A Visionary And A Pioneer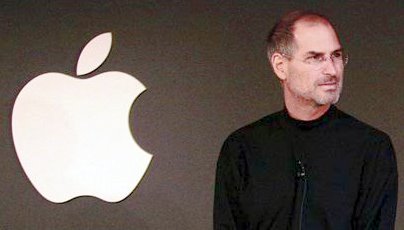 APPLE'S former CEO and co-founder died on Wednesday 5 October 2011 at the age of 56.
Steve Jobs 1955 - 2011
Industry watchers called Jobs a master innovator - Perhaps on a par with Thomas Edison - Changing the world of computing, recorded music and communications. Steve Jobs co-founded Apple Computer in 1976 and, with his childhood friend Steve Wozniak, marketed what was considered to be the world's first personal computer.
Apple released a statement confirming Jobs' death. "We are deeply saddened to announce that Steve Jobs passed away today," the statement said. "Steve's brilliance, passion and energy were the source of countless innovations that enrich and improve all of our lives. The world is immeasurably better because of Steve. His greatest love was for his wife, Laurene, and his family. Our hearts go out to them and to all who were touched by his extraordinary gifts."
Steve Jobs had faced a long battle with cancer, but still remained chairman of the board of directors with Apple. He underwent an operation for pancreatic cancer in 2004 and a liver transplant in 2009. In August 2011, Steve Jobs was pictured looking almost skeletal with greying skin, and was held up by a friend. "I have always said if there ever came a day when I could no longer meet my duties and expectations as Apple's CEO, I would be the first to let you know," he wrote in a letter to the board of directors . "Unfortunately, that day has come." Jobs resigned as Apple CEO in August with Tim Cook named as his successor.
Steve Jobs was the co-founder, chairman, and former CEO of Apple, after helping design and develop one of the first ever successful personal computers, the Apple II. He co-founded the technology giant in a garage in 1976, and by August 2011 Apple had surpassed Exxon Mobil as the world's most valuable company - worth an estimated $341.5 billion.
Apple is leading the consumer technology world with its revolutionary iPhone and App Store, its family of iPod media players and iTunes media store, and its Mac computers and iLife and iWork application suites. Apple recently introduced iPad 2 which is defining the future of mobile media and computing devices.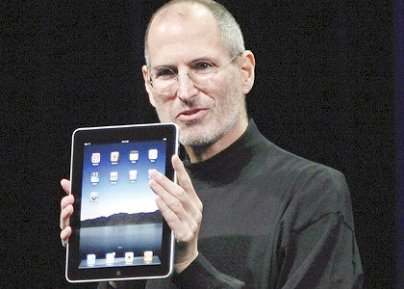 Steve also co-founded and was the CEO of Pixar Animation Studios, which created some of the most successful and beloved animated films of all time including Toy Story, A Bug's Life, Monsters, Inc., Finding Nemo, The Incredibles, Cars and Ratatouille.
Pixar merged with The Walt Disney Company in 2006 and Steve then served on Disney's board of directors.
Statement from Bill Gates and Paul Allen:
Jobs' rivals in the development of personal computers, Microsoft co-founders Bill Gates and Paul Allen, immediately reacted to his death and highlighted his importance to their industry. Allen called him "a unique tech pioneer and auteur who knew how to make amazingly great products."
Gates extended his condolences and noted in a written statement that he and Jobs "have been colleagues, competitors and friends over the course of more than half our lives." "The world rarely sees someone who has had the profound impact Steve has had, the effects of which will be felt for many generations to come," Gates added. "For those of us lucky enough to get to work with him, it's been an insanely great honour. I will miss Steve immensely."
Statement from President Barack Obama:
"Michelle and I are saddened to learn of the passing of Steve Jobs. Steve was among the greatest of American innovators - brave enough to think differently, bold enough to believe he could change the world, and talented enough to do it.
By building one of the planet's most successful companies from his garage, he exemplified the spirit of American ingenuity. By making computers personal and putting the internet in our pockets, he made the information revolution not only accessible, but intuitive and fun. And by turning his talents to storytelling, he has brought joy to millions of children and grownups alike. Steve was fond of saying that he lived every day like it was his last. Because he did, he transformed our lives, redefined entire industries, and achieved one of the rarest feats in human history - He changed the way each of us sees the world.
The world has lost a visionary. And there may be no greater tribute to Steve's success than the fact that much of the world learned of his passing on a device he invented. Michelle and I send our thoughts and prayers to Steve's wife Laurene, his family, and all those who loved him."
Statement from Walt Disney president Bob Iger:
"Steve Jobs was a great friend as well as a trusted advisor. His legacy will extend far beyond the products he created or the businesses he built. It will be the millions of people he inspired, the lives he changed, and the culture he defined. Steve was such an "original," with a thoroughly creative, imaginative mind that defined an era. Despite all he accomplished, it feels like he was just getting started. With his passing the world has lost a rare original, Disney has lost a member of our family, and I have lost a great friend. Our thoughts and prayers are with his wife Laurene and his children during this difficult time."
The History of Apple Computing:
Steve grew up in the apricot orchards which later became known as Silicon Valley.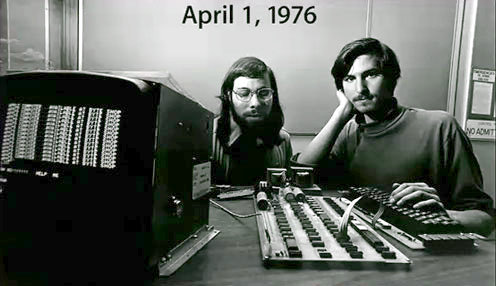 Steven Paul, was an orphan adopted by Paul and Clara Jobs of Mountain View, California in February 1955. Jobs was not happy at school in Mountain View so the family moved to Los Altos, California, where Steven attended Homestead High School.
His electronics teacher at Homestead High, Hohn McCollum, recalled he was "something of a loner" and "always had a different way of looking at things."
After school, Jobs attended lectures at the Hewlett-Packard electronics firm in Palo Alto, California. There he was hired as a summer employee. Another employee at Hewlett-Packard was Stephen Wozniak a recent dropout from the University of California at Berkeley. An engineering whiz with a passion for inventing electronic gadgets, Wozniak at that time was perfecting his "blue box," an illegal pocket-size telephone attachment that would allow the user to make free long-distance calls. Jobs helped Wozniak sell a number of the devices to customers.
In 1972 Jobs graduated from high school and register at Reed College in Portland, Oregon. After dropping out of Reed after one semester, he hung around campus for a year, taking classes in philosophy and immersing himself in the counterculture.
Early in 1974 Jobs took a job as a video game designer at Atari, Inc., a pioneer in electronic arcade recreation. After several months working, he saved enough money to adventure on a trip to India where he travelled in search of spiritual enlightenment in the company of Dan Kottke, a friend from Reed College. In autumn of 1974, Jobs returned to California and began attending meetings of Wozniak's "Homebrew Computer Club." Wozniak, like most of the club's members, was content with the joy of electronics creation. Jobs was not interested in creating electronics and was nowhere near as good an engineer as Wozniak. He had his eye on the marketability of electronic products and persuaded Wozniak to work with him toward building a personal computer.
Wozniak and Jobs designed the Apple I computer in Jobs's bedroom and they built the prototype in Jobs' garage. Jobs showed the machine to a local electronics equipment retailer, who ordered twenty-five. Jobs received marketing advice from a friend, who was a retired CEO from Intel, and he helped them with marketing strategies for selling their new product.
Jobs and Wozniak had great inspiration in starting a computer company that would produce and sell computers. To start this company they sold their most valuable possessions. Jobs sold his Volkswagen micro-bus and Wozniak sold his Hewlett-Packard scientific calculator, which raised $1,300 to start their new company. With that capital base and credit begged from local electronics suppliers, they set up their first production line. Jobs encouraged Wozniak to quit his job at Hewlett-Packard to become the vice president in charge of research and development of the new enterprise. And he did quit his job to become vice president. Jobs came up with the name of their new company Apple in memory of a happy summer he had spent as an orchard worker in Oregon.
Jobs and Wozniak put together their first computer, called the Apple I. They marketed it in 1976 at a price of $666. The Apple I was the first single-board computer with built-in video interface, and on-board ROM, which told the machine how to load other programs from an external source.
Jobs was marketing the Apple I at hobbyists like members of the Homebrew Computer Club who could now perform their own operations on their personal computers. Jobs and Wozniak managed to earn $774,000 from the sales of the Apple I. The following year, Jobs and Wozniak developed the general purpose Apple II. The design of the Apple II did not depart from Apple I's simplistic and compactness design. The Apple II was the Volkswagen of computers. The Apple II had built-in circuitry allowing it to interface directly to a colour video monitor. Jobs encouraged independent programmers to invent applications for Apple II. The result was a library of some 16,000 software programs.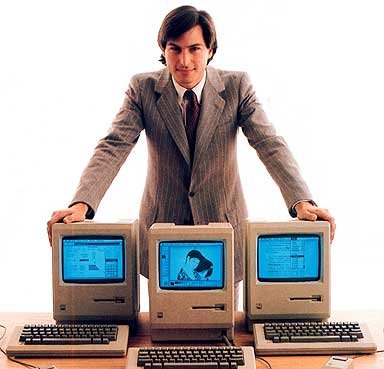 Jobs designed the Macintosh to compete with the PC and, in turn, make Apple's new products a success. In an effort to revitalize the company and prevent it from falling victim to corporate bureaucracy, Jobs launched a campaign to bring back the values and entrepreneurial spirit that characterized Apple in its garage shop days.
In developing the Macintosh, he tried to re-create an atmosphere in which the computer industry's highly individualistic, talented, and often eccentric software and hardware designers could flourish. The Macintosh had 128K of memory, twice that of the PC, and the memory could be expandable up to 192K. The Mac's 32-bit microprocessor did more things and outperformed the PC's 16-bit microprocessor.
The larger concern of management was that the Macintosh was not IBM compatible. This caused an uphill fight for Apple in trying to sell Macintosh to big corporations that were IBM territory. "We have thought about this very hard and it would be easy for us to come out with an IBM look-alike product, and put the Apple logo on it, and sell a lot of Apples. Our earnings per share would go up and our stock holders would be happy, but we think that would be the wrong thing to do," says Jobs. The strengths of Macintosh design were not memory, power, or manipulative ability, but friendliness, flexibility, and adaptability to perform creative work. The Macintosh held the moment's possibility that computer technology would evolve beyond the mindless crunching of numbers for legions of corporate bean-counters. As the print campaign claimed, the Macintosh was the computer "for the rest of us."
The strategy Jobs used to introduce the Macintosh in 1984 was radical. The Macintosh, with all its apparent vulnerability, was a revolutionary act infused with altruism, a technological bomb-throwing. When the machine was introduced to the public on Super Bowl Sunday it was, as Apple Chairman Steve Jobs described it, "kind of like watching the gladiator going into the arena and saying, 'Here it is'." The commercial had a young woman athlete being chased by faceless storm-troopers who raced past hundreds of vacant eyed workers and hurled a sledgehammer into the image of a menacing voice. A transcendent blast. Then a calm, cultivated speaker assured the astonished multitudes that 1984 would not be like 1984. Macintosh had entered the arena. That week, countless newspapers and magazines ran stories with titles like "What were you doing when the '1984' commercial ran?"
1984 Apple Macintosh Commercial
The Only Day Time Airing Was On 22nd January 1984
Jobs believed Microsoft has not transformed itself into an agent for improving things or a company that will lead the next revolution in software development. Jobs became very concerned because he sees Microsoft competing very fiercely to put a lot of companies out of business. This is hurting innovation in the computer industry. Jobs felt the computer industry needs an alternative to Microsoft's software in computer systems.